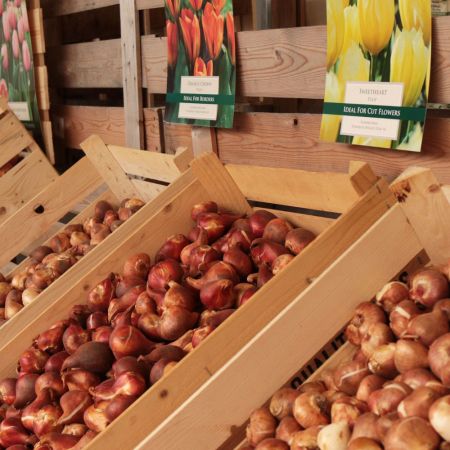 It's hard to believe that summer will soon be a thing of the past and autumn will take over with its shorter days and cooler temperatures, but there is still so much hope in the garden, no less with the arrival of spring bulbs.
Autumn is the time to plant spring flowering bulbs, allowing them to establish over the winter months before their incredible displays in the new year. They are very simple to grow and here at Beetham Nurseries, our full range has now arrived!
Here in the Garden Centre we have a huge selection of bulbs, from Snowdrops to Crocus, Muscari to Hyacinth, Narcissi and Tulips through to Alliums and more. We have something to suit every colour palette and to see you through the hopeful spring months with a beautiful display of colour.
Spring flowering bulbs are very easy to care for; find a timeline of flowering months below and our top tips to ensure you have a beautiful display lasting weeks and even months.
Spring Flowering Timeline
Flowering in February/March
Snowdrop
Species Crocus
Crocus
Muscari
Hyacinth
Flowering in March/April
Species Narcissi
Narcissi
Eranthis
Miniature tulips
Tulips
Daffodils
Flowering in April/May
Dutch Iris
Camassia
Allium
When to plant?
The earliest flowering bulbs should be planted no later than the end of September ideally, with alliums to follow in October and tulips in November.
How to plant?
Bulbs require only some sunshine and a well-draining soil to get them going. Plant the bulbs three to four times the depth of the bulb and two bulb widths apart, allowing them to develop roots before the ground freezes.
When planting a bulb, make sure it is facing upwards. If you aren't sure or can't tell, simply place it on its side.
Where to plant?
Planting bulbs in a border will provide colour and interest throughout the spring months. Whether you opt for a single species or are mixing different varieties, spring bulbs can add so much impact to any border area.
Bulbs also work very well in pots; again you can go for single species or a mix - plant them close together for a fantastic impact. Remember if you go for different species that they may not all flower at the same time!
Deadheading
Be sure to cut back any flowers that are spent to prevent the plant spending energy on seed production; this will conserve resources in the bulb for next year's display of flowers.
Aftercare
Be sure to keep the compost moist; bulbs planted in pots require more tending than those planted directly into the ground so be sure to keep a regular eye on them.
If you have a potential pest problem, cover with chicken wire to prevent squirrels, voles and mice from digging them out. You can remove the wire when shoots appear.
Once the bulbs have finished flowering, wait until the foliage has died back before cutting away. Until the time you cut back, continue to water and feed them as you have been throughout their flowering period, this will ensure that the foliage feeds the bulbs and gives the best possible chance for future years of flowering.