Apple Weekend 2023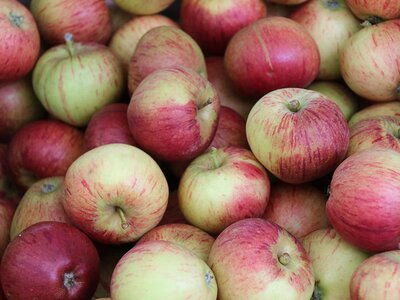 Apple Weekend returns to Beetham Nurseries for 2023, and this year is going to be bigger and fruitier than ever!
Friday 6th October and Saturday 7th October 2023 9am - 5.30pm, Sunday 8th October 2023 10am - 4.30pm.
Our annual free, family event, celebrating the nation's favourite fruit, is one of most popular events of the year here at Beetham Nurseries and this year will be no different! Offering a weekend crammed full of fruit and apple trees, fruit pressing, family fun, live music, as well as our exciting collaboration with Kendal Farmers Market who will be bringing you some of most delicious, local artisan produce that Cumbria has to offer!
There will be plenty to see, do, eat, drink and browse… and of course, learn!
Apples & Fruit Trees
Trees For Sale - Of course, we will have many apple and fruit trees for sale. With over 40 varieties available, we are delighted to once again offer our Garden Club members 10% off all fruit trees across the weekend. Not a member? Join for free at the till! Don't forget to pick up a free Beetham Nurseries Fruit Tree Care Guide, too.
Loose Apples – If you're looking to try a rare or unusual apple variety, then Beetham Nurseries is the place to visit! We have one of the largest selections of loose apples in the area over the weekend, so be sure to browse the full range. We will also be offering apple tasting all weekend, so you can even try before you buy.
Fruit Press – Do you have an abundance of apples at home that you'd like to have made into juice? Please bring them along to Apple Weekend! All you need to bring are your apples and containers to put the juice in, and a member of our team will press them for you whilst you wait, and you can take away the juice. All we ask is for a small donation to charity; this year's chosen charities are Carer Support South Lakes and The Lighthouse Community Mental Health Hub in Kendal.
Apple Expert and Talk – We are delighted to have Andy Gilchrist joining us again for Apple Weekend on Sunday 8th October. Not only is he here to identify any apples you may bring in from home and to answer your apple-related questions, but he is also offering a talk in our Marquee, 'Apple Stories'. Brand new for 2023, this talk will last approximately 1 hour. Tickets are £5 and all attendees will receive a £5 Beetham Nurseries gift voucher on the day of the event.
WIN an Apple Tree – Enter our in-store giveaway to win your very own apple tree!
KingSharp - Stuart from KingSharp will be here all weekend on Friday 6th, Saturday 7th October, and Sunday 8th October, 10am - 4pm. Bring along kitchen knives, household scissors, professional scissors, garden and home tools and more and have them sharpened whilst browsing The Growing Nursery or Garden Centre, or enjoy a drink, cake or even lunch in The Garden Cafe. Prices start from £2.
Family Fun
Children's Crafting – Join Kirstie in the Marquee on The Terrace 10am till 4pm on Saturday 7th October for some apple crafting! This free children's drop-in session will allow little ones to get creative whilst the adults grab a coffee from our Vintage Coffee Van. Whilst we recommend this activity is suitable from 4 years old, younger children may join in but may require more input from an adult. Please note that all children attending will require an adult to be present at all times to supervise their crafting.
Fairy Hunt – Help us find the fairies this Apple Weekend! Take a card from Information Desk and hunt around the Garden Centre and Growing Nursery to find all six magical fairy doors! Each door has the name of the fairy that lives there… so all children need to do is write the name of each fairy on the card and return the card to the information desk for a very special prize! Enter your details on the back of the card, and your family will be in with a chance of winning a £25 Beetham Nurseries voucher!
Colouring Competition – When visiting The Garden Café on each day of Apple Weekend, be sure to pick up a colouring sheet and get as creative as you'd like! When you are happy with your masterpiece, enter your details on the back of your colouring sheet before handing it in at the counter, and you'll be in with a chance of winning a fantastic prize!
Live Music – Lost in Americana will be back by popular demand! This hillbilly bop quartet will be getting toes a tappin' down on the Terrace. We are delighted to welcome some new acts to our lineup too!
Food & Drink
Fruit themed Garden Café Menu – It wouldn't be an Apple Weekend without a fruit themed menu in The Garden Café! Join us on both days for some very special additions to the menu! The Garden Café is open 9.30am – 5pm on Friday 6th October and Saturday 7th October, and 10am – 4pm on Sunday 8th October.
Artisan Food & Drink Market – Brand new for 2023, we are delighted to be collaborating with Kendal Farmers Market who will be bringing you some of the most delicious, local artisan produce that Cumbria has to offer!
We hope you will join us for what is sure to be a wonderful, family event. If you would like to know more, please don't hesitate to contact us.
Dates: , and