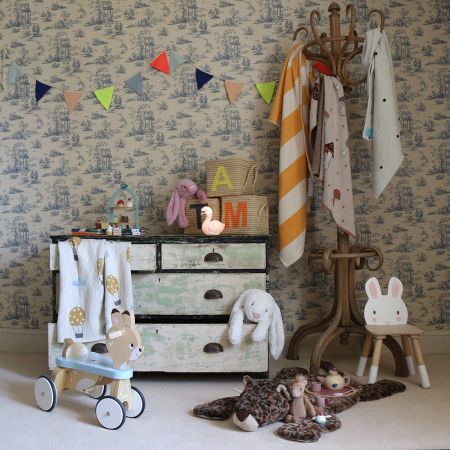 No matter if you're browsing for your own children, grandchildren, or little loved ones in your life, our brand new Playroom Edit is a curated selection, full to the brim of luxury children's functional and educational toys including puzzles, books and the ever popular Jellycat Toys.
With something for everyone, whether that be a gift for a loved one or the perfect addition to the nursery, you're certain to find a unique purchase for every occasion and need, thanks to our premium suppliers from around the world.
To celebrate the launch of The Playroom Edit we are offering a Free David Attenborough book worth £10 with every online order of £40 or more. (No need to add this item to your order, this will automatically be added by our dispatch team).
Wooden Toys
Keep your little ones' minds active and their hands busy with our collection of sustainable wooden toys. These wooden play toys create endless possibilities to feed their imaginations and build their skills with blocks, games, puzzles and more. Our favourite Wooden Toys include the Construction Site Set, Garden Patch Puzzle, and Ride On Wooden Deer.
Storage Solutions
The raffia baskets handmade by Rice of Denmark, offer a fun toy storage solution for every play room. Raffia varies in colour from nature, and this variation is reflected in the colouring as well. This means two baskets are never quite the same making them beautifully unique. Our favourite Storage Solutions include Alphabet Raffia Baskets such as this Letter 'F' Storage Basket and this Square Raffia Basket with Dots.
Jellycat Toys
Irresistibly cuddly with a focus on inspiring children's developing senses, our range of Jellycat toys promote education and fun. Brimming with cheery characters, they're sure to encourage interactive play and learning. Our favourite Jellycat Toys in the Playroom Edit include Didi Hedgehog, Beatrice Butterfly and Bashful Tulip Bunny.