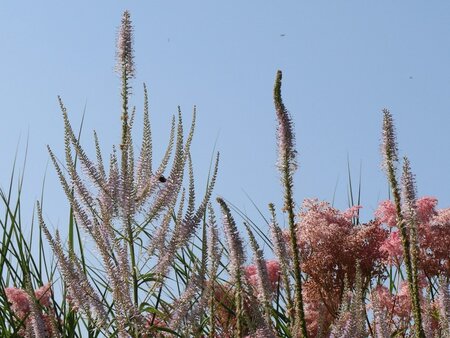 Beetham Nurseries is so much more than just a garden centre. We might have started back in 1984 with nothing but a humble field and a polytunnel, but over the last forty years, our little nursery has grown into something magnificent that we're incredibly proud of. Alongside our plants, we now offer a vast range of homeware, artisan food and drink, homemade cakes and of course, our beloved Growing Nursery. No matter the season, there's always something exciting brewing at Beetham – so today we're going to explore what the Beetham Nurseries experience is and why when you come to visit us, you should really make a day of it.
The Growing Nursery
The Growing Nursery is our pride and joy. Opened in 2014 to mark our 30th anniversary, it gives you the chance to peek behind the curtain into our specialised growing area and see how we do what we do best – growing plants! Everything in the nursery was grown and nurtured by us by our gardeners, and you'll find some truly weird and wonderful herbaceous plants. Pop into our exotic plants nursery in the conservatory and browse our ever-changing selection of rare and wonderful plants from all over the world. The best part is that because everything is grown on-site, you can rest assured that anything you purchase from the Growing Nursery will thrive in our climate.
The Growing Nursery is so tranquil and relaxing you'll forget you're even in a garden centre. If you've come seeking inspiration for your garden, have a wander around our display beds which have been lovingly cultivated to showcase the plants we grow and how they can be used to create luscious, vibrant displays. Our gardeners are always on hand to help or offer advice on any of the plants we grow. The Growing Nursery is open from March through to October every year, 7 days a week.
Changing With The Seasons
Our main garden centre is bursting with everything you could ever need to create a happy, healthy garden. Here you'll find all our plants, seeds and gardening supplies alongside an extensive range of homeware and gifts. Our food hall is a real treasure trove of luxury food and drinks from both local, national and international artisan suppliers.
Beetham Nurseries changes with the seasons. Our dedicated staff work their magic on the displays to reflect the countryside surrounding our garden centre near Kendal as it transitions throughout the year. Visit us in autumn, and you'll find carts stacked high with mouth-watering, home-grown apples as we celebrate the harvest. Visit in winter to see Beetham Nurseries transformed into a festive wonderland full of thoughtfully curated decorative themes and everything you could ever need to have magical Christmas.
Freshly Prepared Food & Drink
If you feel a little peckish whilst you're with us, we've got plenty of freshly prepared, homemade food and drink on offer across The Garden Café and The Terrace. Join us for breakfast, brunch or lunch and treat yourself to a delicious cake – made by our very own bakers.
During the warmer months, you can relax on the Terrace. You'll find The Horse Box, where you can grab a quick drink or homemade sweet treat and from The Vintage Van, we serve a constantly rotating menu of seasonal street food, and you won't have to worry if the weather isn't great; there's a covered marquee for those rainy days.
Year-Round Events For The Whole Family
We're always hosting events at Beetham Nurseries – and of course, like everything we do, these events change with the seasons. At the beginning of the year, we celebrate the arrival of seed potatoes and summer bulbs with offers online and in-store.
As the trees begin to turn yellow and orange in autumn, we host our infamous annual Apple Weekend, which is packed full of apple-themed activities for children, delicious baked goods and, of course, a huge range of apple trees!
In the lead up to Christmas, we welcome Father Christmas to Beetham Nurseries – wind your way through our winter wonderland to Santa's grotto. After you've visited the big man himself, you can get cosy with a hot chocolate in the Garden Café. Join us for an afternoon of traditional wreath making, hosted by our Growing Nursery Manager, who will teach you how to craft a beautiful Christmas wreath that you'll be proud to hang on your front door.
Our Christmas events get booked up quickly, so we recommend keeping an eye on our events page for up to date information about what's happening at Beetham Nurseries – including Late Night Shopping in December. If you find our events are fully booked – don't worry! There is still plenty to see and do at our Garden Centre in Milnthorpe, and it's certainly worth a visit to wander around our Christmas displays.
We hope we've convinced you to visit us and make a day of it! Beetham Nurseries has grown a lot over the last 40 years, and that's showing no sign of stopping. We're sure we'll have even more to offer in the future, so keep up to date with everything we've got going on by signing up to our newsletter. If you'd like any more information about what to expect when you visit, give us a call on 015395 63630 – we'll be happy to help.