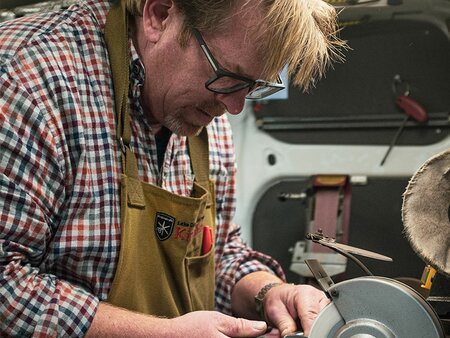 We are so pleased to be welcoming KingSharp back to Beetham Nurseries for 2023! Joining us on the first and third Friday of each month, Stuart will be here from 3rd March.
Find KingSharp at the entrance door to Beetham Nurseries in the car park. Operating from his fully-fitted van, KingSharp can sharpen almost anything with a blade! Bring along kitchen knives, household scissors, professional scissors, garden and home tools and more and have them sharpened whilst browsing The Growing Nursery or Garden Centre, or enjoy a drink, cake or even lunch in The Garden Café.
Prices start from £2.
Stuart will be here on the following dates from 10am - 4pm (and right up to the end of October 2023 on the first and third Friday of each month):
Friday 3rd March
Friday 17th March
Friday 7th April (Good Friday)
Friday 21th April
Friday 5th May
Friday 19th May
Friday 2nd June
Friday 16th June

Friday 7th July
Friday 21st July

Thursday 27-Friday 28th July (Summer Festival)

Friday 4th August
Friday 18th August
Friday 1st September
Friday 15th September

Friday 6 - 8th October (Apple Weekend)

Friday 20th October
Friday 3rd November
Friday 17th November
Thursday 30th Nov – 3rd December (Christmas Market Weekend)
Thursday 7th – 10th December (Christmas Market Weekend)
No need to book in advance, simply take your items to be sharpened straight to KingSharp and Stuart will inform you of the price to sharpen and give you a waiting time.
We hope to welcome you to Beetham Nurseries very soon!