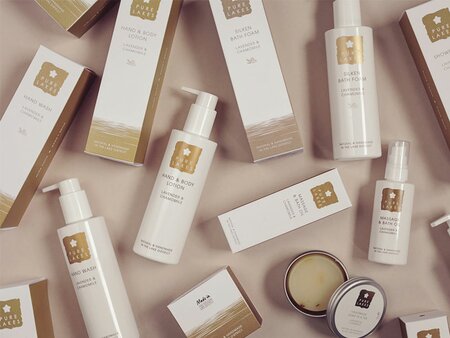 Brand Spotlight: Pure Lakes
We are proud to supply a large range of premium products sourced locally, nationally and internationally right across Beetham Nurseries. Many of our suppliers have interesting stories to tell, and so across 2023, we plan to celebrate a number of our local producers, that have fantastic products and we will help share those stories.
Each Brand Spotlight will be highlighted in-store and online, and we will be sharing information about their business and products across that time. We are delighted to announce that Pure Lakes are our next Brand Spotlight!
From the heart of our glorious county of Cumbria, Pure Lakes is an award-winning natural skincare company who produces natural, ethical, and sustainable skincare using only the highest quality ingredients. We are so delighted to have yet another fantastic local business take the stage as our next Brand Spotlight, and we can't wait to showcase their delicious produce with you.
Pure Lakes
Pure Lakes produces natural, ethical, and sustainable skincare using only the highest quality ingredients. Their dedicated team produces the complete range by hand in small batches in their brand-new purpose-built workshop in the village of Far Sawrey, championing precision, and passion over mass production every time.
The unique formulas used for each product are ethically sourced plant oils and butters, infused with a variety of essential oil blends. These oils are chosen for their therapeutic properties and delicate aroma, parabens or SLS are never used in any products, Pure Lakes are proud to say their products are all cruelty free.
Last year they won Cumbria Tourism's 'Makers and Producers' award which recognises high quality, locally made, unique products in Cumbria.
Look out for lots of content on our website and via our social media in the coming weeks, and learn more about this wonderful, local brand that we are so proud to supply. Shop Pure Lakes both in-store and online here at Beetham Nurseries.
- Special Offer when shopping Pure Lakes across the Brand Spotlight: Spend £20 of Pure Lakes products and receive a FREE exclusive Grapefruit & Lemongrass 70g bar of soap!
Shop Pure Lakes both in-store and online here at Beetham Nurseries