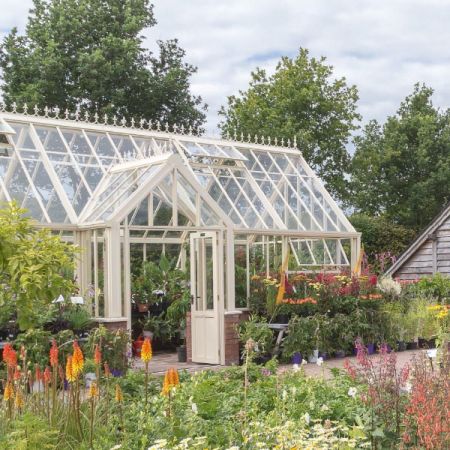 Monday 26th April - Sunday 2nd May
NATIONAL GARDENING WEEK HAS NOW ENDED. THANK YOU TO EVERYONE WHO TOOK PART IN OUR ACTIVITIES!
Here at Beetham Nurseries, we love to get involved with and support events throughout the year, and especially National Gardening Week each year.
The theme this year is 'Get Your Dose of Vitamin G!' which is specifically looking at the links between the mental health benefits of gardening and the joy that being in the garden brings you. So this year, we'd love to hear from you throughout National Gardening Week and we are extremely excited to announce Garden Club Member offers, giveaways and plenty to get you and your family in the garden throughout National Gardening Week and beyond!
SHARE YOUR FAVOURITE SPOT IN THE GARDEN
To coincide with the 'Vitamin G' theme this year, we'd love to see your favourite spots in the garden where you love to relax and enjoy your hard work!Our Plants Manager will pick her favourite image and one lucky winner will win a Patio Rose, Pot and Compost, so be sure to enter! You can send your image to us below, we will share our favourites on our social media, too!
SEND YOUR TOP TIPS FOR RELAXING IN THE GARDEN
We are all aware of the benefits to our mental health when we spend time outdoors. If you love spending time in your garden, we'd love to hear your top tips for the best 'stress busting' jobs! If you've had a particularly difficult day, what's your go-to? Or if you simply have jobs you love to do, we'd love to hear those too, and who knows, they may well help a beginner get the most out of their time in the garden!
ENJOY A SLICE OF NATIONAL GARDENING WEEK CAKE
Throughout National Gardening Week, we have an extra special cake available in The Garden Cafe and The Wood Fired Kitchen, where the proceeds from the sales of each slice will go to charity. The Lighthouse is a mental health peer support charity, based in Kendal and serving the South Lakeland area of Cumbria, UK. We are delighted to be supporting this charity throughout National Gardening Week, so if you'll be enjoying a sweet treat whilst you're with us, you know you'll be donating to a good cause at the same time!
GET THE CHILDREN & GRANDCHILDREN INVOLVED!
We'd all love to encourage the children to get outside more often, and what better time than National Gardening Week! We have created a Nature Trail to complete either in the garden or your nearest park, as well as a wordsearch to keep little ones (and big ones!) entertained. Be sure to take a photo with your completed sheets and send them to us... a winner will be chosen at random to win a Peter Rabbit & Friends Teepee!
IN-STORE OFFERS - GARDEN CLUB EXCLUSIVE
To celebrate National Gardening Week, we have hand-picked special offers, exclusive to our Garden Club Members. If you're not a member of our Garden Club, you can join for free in-store.
Enjoy 20% off all Klean Kanteen products
Receive a free 50ml Hand Sanitiser with any full price Pure Lakes products
Enjoy 20% off Pure Lakes Gardener's Eucalyptus Skin Repair Bar
WIN A TOM CHAMBERS BABY BEDALE BIRD TABLE
Worth £69.99, this Bird Table is beautifully handcrafted, with a genuine slate roof. Standing at a height of 1.65 m when fully assembled, the Baby Bedale Bird Table is supplied with a genuine slate roof and a handcrafted finial.
We hope you'll join us throughout National Gardening Week 2021, whether that be in-store, entering our giveaway or sharing your top tips - we can all help each other by sharing our top tips, and we would love to see your favourite outdoor spaces!