Rabbit Resistant Plants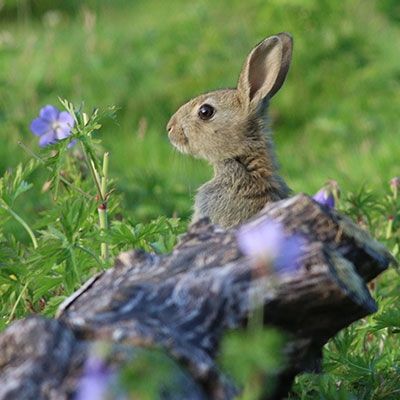 Rabbits tend to be inquisitive feeders and are often attracted to new plantings, so some
protective netting is advisable until the plants are established.
Where feasible, rabbit-proof fencing can be installed around the garden to exclude rabbits. Individual woody plants may be fitted with tree guards or spirals
(biodegradable tree spirals made from potato starch are available).
Suitable Perennials
Acanthus species (bear's breeches)
Aconitum species (monkshood)
Agapanthus (African lily)
Ajuga reptans (bugle)
Alchemilla mollis (lady's mantle)
Allium (ornamental onions)
Alstroemeria (Peruvian lily)
Anaphalis
Anchusa azurea
Anemone coronaria
Anemone hupehensis & A. × hybrida
(Japanese anemones)
Antirrhinum (snapdragon)
Aquilegia (columbine)
Artichoke, globe and Jerusalem
Aster novae-angliae (Michaelmas daisy)
Aster novi-belgii (Michaelmas daisy)
Astilbe
Bergenia species (elephant's ears)
Brunnera macrophylla
Chionodoxa luciliae (glory of the snow)
Colchicum (autumn crocus)
Convallaria majalis (lily of the valley)
Cortaderia selloana (pampas grass)
Corydalis
Crinum
CrocosmiaCyclamen (hardy cyclamen)
Dahlia (dahlias)
Digitalis (foxgloves)
Doronicum (leopard's bane)
Echinops (globe thistle)
Epimedium
Eranthis hyemalis (winter aconite)
Eremurus (foxtail lily)
Eryngium agavifolium (sea holly)
Erythronium dens-canis (dog's tooth violet)
Eschscholzia californica (California poppy)
Eupatorium cannabinum (hemp agrimony)
Euphorbia (spurges)
Fritillaria (fritillaries)
Galanthus nivalis (snowdrop)
Gentiana asclepiadea (willow gentian)
Helenium autumnale
Helianthus (sunflowers)
Helleborus (not H. niger ) (hellebore)
Hemerocallis (day lily)
Hesperantha coccinea
Heuchera sanguinea (coral flower)
Hyacinthoides non-scripta (bluebell)
Impatiens (busy Lizzie)
Iris (irises)
Kniphofia (red hot poker)
Lamium (dead nettles)
Lamium (dead nettles)
Lavatera trimestris
Leucojum (snowflakes)
Linum perenne (flax)
Liriope muscari
Lupinus (lupins)
Lychnis
Lysimachia clethroides
Macleaya cordata
Malva moschata (musk mallow)
Melissa officinalis (bee balm)
Mentha (mints)
Miscanthus sinensis
Muscari (grape hyacinth)
Myosotis (forget-me-not)
Narcissus (daffodil)
Nepeta × faassenii (catmint)
Nicotiana alata
Orchids, hardy
Origanum vulgare (marjoram)
Paeonia (peonies
Papaver somniferum (opium poppy)
Petasites fragrans (winter heliotrope)
Phormium tenax (New Zealand flax)
Phytolacca (poke weed)
Polemonium (Jacob's ladder)
Polygonatum × hybridum (Solomon's seal)
Polygonum
Potato
Primula vulgaris (primrose)
Pulmonaria spp. (lungwort)
Rhubarb
Salvia × superba
Saxifraga × urbium (London pride)
Sedum spectabile (ice plant)
Senecio cineraria (sea ragwort)
Stachys byzantina (lamb's ears)
Tagetes erecta (African marigold)
Tagetes patula (French marigold)
Tradescantia virginiana
Trillium grandiflorum (wake robin)
Tritonia crocata
Trollius europaeus (globe flower)
Tulipa (tulips)
Verbascum thapsus (mullein)
Verbena
Viola odorata (violet)
Xerochrysum bracteatum (everlasting flower)
Zinnia elegans
Suitable Trees & Shrubs
Alnus (alder)
Araucaria araucana (monkey puzzle tree)
Arbutus menziesii
Arbutus unedo (strawberry tree)
Arundinaria (bamboo)
Aucuba japonica (spotted laurel)
Berberis (barberry)
Betula (birch)
Buddleja davidii (butterfly bush)
Buxus sempervirens (box)
Ceanothus
Chimonanthus praecox (winter sweet)
Choisya ternata (Mexican orange)
Cistus
Clematis
Cornus sanguinea (dogwood)
Cryptomeria japonica (Japanese cedar)
Cytisus (broom)
Daphne laureola (spurge laurel)
Daphne mezereum (mezereum)
Deutzia scabra
Elaeagnus pungens 'Maculata'
Escallonia
Eucalyptus (gum tree)
Euonymus europaeus (spindle tree)
Euonymus latifolius
Fatsia japonica
Fuchsia - hardy types
Gaultheria mucronata
Gaultheria shallon
Hippophae rhamnoides (sea buckthorn)
Hydrangea
Hypericum calycinum (rose of Sharon)
Kalmia latifolia (calico bush)
Laburnum
Laurus nobilis (bay tree)
Lavatera cvs. (tree mallow)
Ligustrum ovalifolium (privet)
Lonicera (honeysuckle)
Olearia × haastii
Paeonia (peonies - 'tree' types)
Philadelphus spp. (mock orange)
Pinus nigra (Corsican pine)
Poncirus trifoliata (Japanese bitter orange)
Prunus laurocerasus (cherry laurel)
Prunus (cherries)
Rhododendron spp. including azaleas
Rhus typhina (sumach)
Ribes
(currant - fruiting and ornamental types)
Rosa (spiny species roses, not hybrid teas)
Rosmarinus officinalis (rosemary)
Ruscus aculeatus (butcher's broom)
Ruta graveolens (rue)
Sambucus (elder)
Sarcococca (winter box)
Skimmia japonica
Symphoricarpos albus (snowberry)
Syringa vulgaris (lilac)
Viburnum opulus
(snowball bush, guelder rose)
Viburnum tinus (laurus tinus)
Vinca (periwinkle)
Weigela hybrids
Yucca