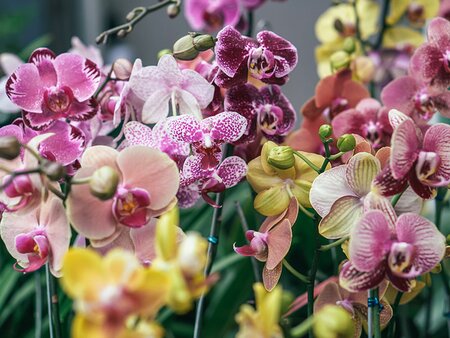 Orchid Day is back for 2023, and we simply cannot wait! It's always nice to have something to look forward to after the festivities of Christmas, and Orchid Day provides just that!
We are delighted to be welcoming back Chelsea Gold Medal Winners, Burnham Nurseries for 2023. This family-run nursery based in South Devon have been specialists in growing Orchids for 70 years, offering the widest range of Orchids in the UK. They will be bringing their extensive knowledge, as well as a large selection or rare and unusual Orchids to us here at Beetham Nurseries, for this very special event. Enjoy chatting to them, asking questions, and purchasing from their fantastic selection.
Join us at 2pm on Saturday 14th January for a talk by Sara Rittershausen all about 'The Wonderful World of Orchids'; this free talk will introduce you to this fantastic and unique plant, and Sara and her team will be here all day should you have specific questions or queries about growing your own Orchids.
If you have Orchids at home that need a little care and attention, bring them along to our Repotting Clinic which is available from 10am – 12pm and 2.30 – 4.30pm.
As always, The Garden Café will be open for delicious breakfasts, brunch, lunch, light bites and home-baked cakes and sweet treats, as well as warming drinks.
Beetham Nurseries will be open 9am – 5pm on Saturday 14th January 2023.