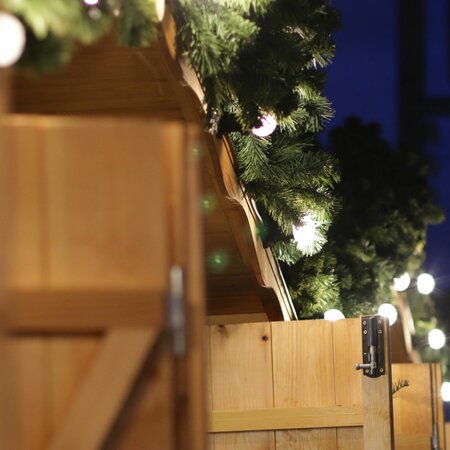 This year, Beetham Nurseries is going the extra mile to celebrate Christmas, with not one but two Christmas Market Weekends.
From Thursday 30th November to Sunday 3rd December & Thursday 7th December & Sunday 10th December, Beetham Nurseries will be a festive mix of delicious food, festive tipples, live music and unique shopping experiences.
We truly are a destination for our loyal customers all year round, and especially at Christmas! We offer something for everyone, whether that be our extensive selection of Christmas trees, outdoor firepit to keep cosy, Garden Café, Wood Fired Kitchen, Christmas decorations, gifts… you name it! So we are delighted to be able to offer our customers something extra special this year.
We cannot wait to create a Christmas village with eight chalets each weekend, giving an additional place to shop over this special weekend, and we are on the lookout for exciting and upcoming makers and producers to join us; whether you have been trading for 6 months or 60 years.. we want to hear from you!
We are so lucky to have a wealth of amazing creators and businesses in our stunning part of the world, and we are inviting the best of the best to join us for what is set to be a fantastic, festive weekend.
Rest assured, this promises to be a busy weekend buzzing with activity, and our dedicated marketing team will go the extra mile to ensure the event is a huge success for all.
The Details
The price to hold a chalet at Beetham Nurseries' Christmas Market Weekend 2023 is £220+VAT. The price includes one lockable chalet with strip light (electric sockets and furniture are available at an extra cost).
The Christmas Market will be open:
Thursday 30th November from 9am to 7.30pm, Friday 1st December 9am – 5pm, Saturday 2nd December 9am – 5pm and Sunday 3rd December 10am – 4pm.
Thursday 7th December from 9am to 7.30pm, Friday 8th December 9am – 5pm, Saturday 9th December 9am – 5pm and Sunday 10th December 10am – 4pm.
Set up will be from 9am on Thursday 30th November & Thursday 7th December and take-down will be from 4-6pm on Sunday 3rd December & Sunday 10th December.
Please note, we can only accept applications for the entire weekend.
If successful, Beetham Nurseries will decide the weekend you will be trading however, should you have any special requirements please do let us know in your application.
We invite businesses to apply for a chalet who are confident they can dress the chalet to the high standards Beetham Nurseries offers inside our shopping environment… If you believe you can offer the WOW factor, we definitely want to hear from you!
We cannot unfortunately accept any applications for catering businesses; we are only accepting applications for non-consumable items, or food and drink to be eaten off-site (i.e. gifting items).
If you have any questions, please don't hesitate to contact our marketing team here.
Applications for a chalet close on Friday 11th August 2023 and successful applicants will be informed, by Monday 14th August 2023.
Please read our terms & conditions before applying for a chalet.