Watering Advice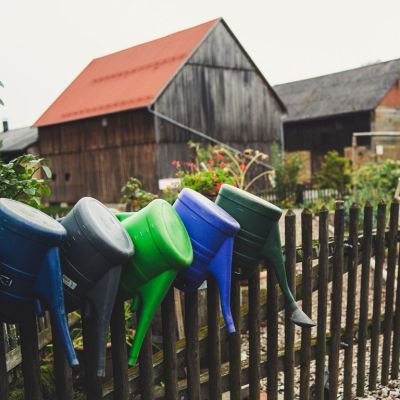 When to Water
The very best time to water is early in the morning when it's cool, this will allow the water to run down into the soil and reach the roots of plants without excess water being lost to evaporation. Making water available early in the morning will ensure that plants have all the water they need to deal with the heat of the summer sun. The second best time to water is late afternoon into early evening, this will enable plants to dry before night time thus avoiding damp leaves which promote fungus and other problems, especially in vegetables. Watering at this time will also give them several hours to take up water without contending with the heat of the sun.
Installing a Water Butt
If you haven't installed a water butt then think about doing so, plants prefer rain water over chlorinated tap water and collected water is not only free but environmentally friendly. We have a range of sizes available from 100 litres upwards which include everything you need to get started. We also have a selection of accessories including connector kits, overflow kits and more.
Install a Watering Kit
If you're going on holiday then don't forget to arrange for a friend or neighbour to water your plants. If this isn't possible then a watering kit will become an invaluable asset to your garden or greenhouse. A watering kit is superb for precise watering, it will provide a steady flow meaning that plants will be thoroughly watered without wastage. A watering kit can also be used with a timer ensuring that plants get the right amount of water at the right time of day, for the correct length of time.
We have several varieties of watering kits, pop in and see our selection, if you need help just ask.