There's not long to go until Beetham Nurseries Apple Weekend 2021 – which returns on 9th and 10th October. It's sure to be a fun-packed weekend of family-friendly, free activities – apple-themed, of course.
There'll be a whole host of treats available on our fruit-themed menu at The Garden Café, and with over 40 varieties of apple trees on show (plus various other fruit trees including cherry, plum, pear, damson, hazel, quince), you're bound to find the perfect fruit tree for your garden. We're also going to be running a family treasure hunt, colouring competition and a chance to win an Apple Scrumptious tree! There's lots to look forward to – but today, we're going to delve a little deeper into the world of apples and explain why we love them so much – hopefully, by the time we're done, you'll understand why we dedicate an entire weekend to them!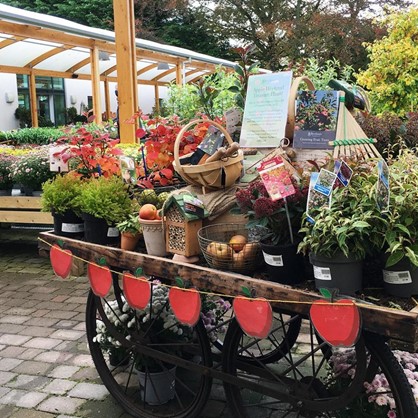 When is Apple Season?
Apples are available in supermarkets all year round, unusually imported from abroad – but if it's homegrown Great British apples you're after, now is the season to get picking. Apple harvest in the UK begins in late summer, with varieties like Worcester Pearmain and James Grieve ready for harvest in early September. It's during the mid-season when things start to get going and by late October, popular varieties like Bramley Seedling, Egremont Russet and Red Windsor are ripe and ready. Harvesting continues through winter and beyond.
We host our Apple Weekend right in the middle of the season, so you'll be able to experience the best that homegrown apples have to offer. They may be smaller than the varieties you find on supermarket shelves – but freshly picked apples are worlds apart from those that have been grown primarily to survive long overseas journeys. Whether you want something tart, sweet, aromatic, or crispy, there's an apple out there for everything – but what do you do with them?
Quick & Easy Apple Recipes to Try at Home
Not only is the humble apple delicious, but it's also rich in fibre and possibly one of the most versatile fruits out there. Some varieties are best enjoyed simply by biting into them, whilst others are better suited to stewing or mixed with blackberries for a tart and tasty crumble.
Over our Apple Weekend, The Garden Café and The Terrace will be serving up all manner of mouth-watering fruit-themed cakes and treats for you to indulge in – but what about the apples from your own tree? Here are a few super quick and easy ways you can use your own apples that you might not have thought of. . .
Spiced Apple Crisps
If you've got some overripe apples going spare, turn them into crisps! Apple crisps make for a tasty autumnal treat all by themselves or scatter on top of your porridge or overnight oats. All you have to do is thinly slice your apple – we like Granny Smiths – sprinkle with cinnamon and bake at 160 degrees / 140 fan for 45 minutes.
Apple Tea
Homemade apple tea is soothing, comforting, and ready in no time. Simmer a quartered red apple with a cinnamon stick, sprig of mint, a couple of cloves, a pinch of turmeric, a squeeze of fresh lemon for ten minutes and strain into a cup with a drizzle of honey for a light and spicy drink that's perfect first thing in the morning.
Chocolate Dipped Apples
Chocolate dipped apples are an excellent alternative to toffee apples, kinder on your teeth and easy for kids to get involved in making. Melt whatever chocolate you like best, dip your apples to coat and then roll in a topping of your choice – hundreds 'n' thousands, popping candy, crushed honeycomb – the possibilities are endless!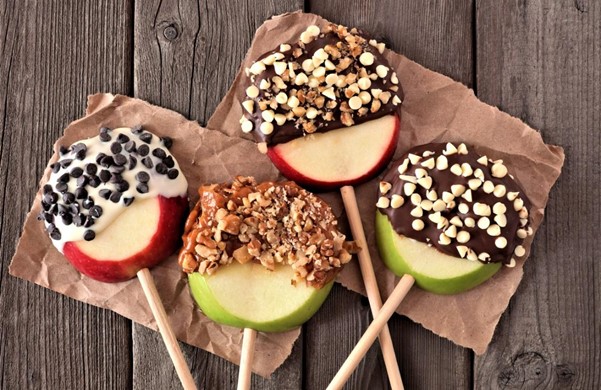 Choosing the Right Apple Tree for Your Garden
With 40 varieties of apple and fruit trees available at Beetham Nurseries over Apple Weekend, you're bound to find the right apple tree for your garden. Generally, there are three questions your should ask yourself before choosing an apple tree.
How tall do you want the tree to grow?
What kind of apples do you want – cooking or eating apples?
How many trees do you want to plant? You need to consider that many apple trees require a pollination partner to allow cross-pollination to take place and produce fruit.
Don't worry if you're left scratching your head - our resident apple expert, Andy Gilchrist, will be on hand to answer all your questions on Sunday 10th October on Apple Weekend, and our staff are always here to give advice.
Apple trees are incredibly versatile – not only in the fruits they produce but where you can grow them. Beetham Nurseries has rootstock suitable for growing containers on patios and in the ground and self-fertile varieties that can produce their own pollen.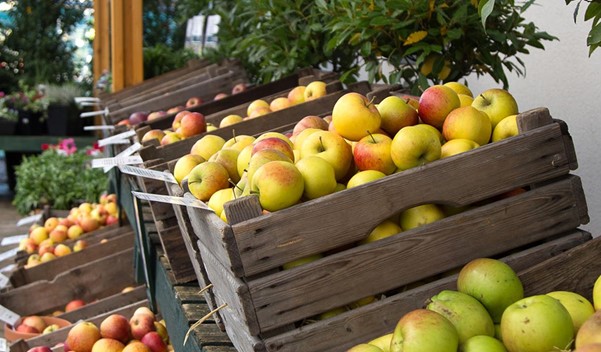 Apple Weekend Discounts for Garden Club Members
To get the most out of Beetham Nurseries' Apple Weekend, sign up to The Garden Club for exclusive discounts across the weekend that are only available to members. Our Garden Club members earn points for purchases made in our main store and at the Growing Nursery and there's even more rewards to be had over Apple Weekend.
Garden Club members will receive 10% off all fruit trees and bushes at Beetham Nurseries over Apple Weekend - including the massive range of fruit trees we'll be showcasing. Become a member today for priority notifications on all our events.
We're looking forward to seeing you all for Apple Weekend. If you have any questions about the event, or any events happening at Beetham Nurseries, contact us today, we'll be happy to help.