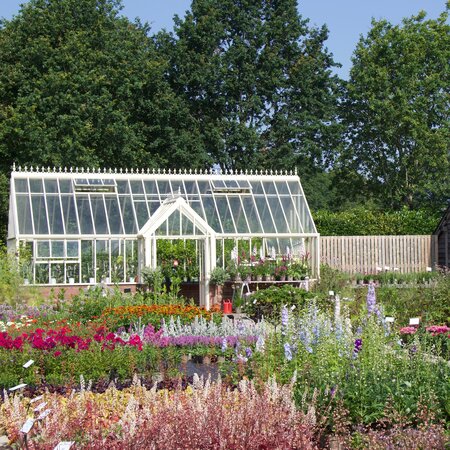 The Growing Nursery here at Beetham Nurseries is very much the heart of everything we do when it comes to growing our own plants. We have thousands of plants that we grow yearly, as well as our beautiful planted borders, which many of our customers enjoy daily, walking around the plants, taking the weight off on one of our benches, and watching the wildlife whilst having a mindful moment.
Each month, our Growing Nursery Manager Alyson will choose her 'Picks of the Month' to highlight plants that are looking particularly beautiful at that time, or complement each other when planted together. You'll be able to see the plants highlighted here in the Beetham Journal each month, and of course in the Growing Nursery itself.
All of the plants this month are at a revised price of £4.99 for a limited time only, whilst stocks last.
June's Picks of the Month
Nepeta – All Varieties
Nepeta, also known as Catmint, is a vigorously growing perennial that boasts beautiful lavender-blue flowers, from late spring, to late summer. Loved by wildlife, particularly butterflies, Nepeta makes fantastic edging to lawns or borders with its meadow-like growth.
Nepeta will grow in any soil that drains easily, ideally in full sun but most varieties will tolerate light shade.
Incarvillea – All Varieties
Incarvillea is a herbaceous perennial with clusters of trumpet-shaped pink flowers with a yellow throat in early and mid-summer. The exotic looking plant is perfect for borders or pots, and will enjoy a full sun position in the garden, in a moist, well-draining soil.
Penstemon – 'Dakota Series'
The new Penstemon Dakota Series are tough, garden hardy perennials out of North America in both 'Dakota Burgundy' and 'Dakota Verde'. Dakota Verde is a compact, bushy plant producing green leaves and masses of lavender to violet tubular flowers. Dakota Burgundy is also a compact variety that produces glossy purple/black foliage with lavender to violet tubular flowers that wildlife will love.
Penstemon Dakota & Verde will flower from June onwards throughout the summer; plant into full sun or partial shade in a fertile, well-draining soil.
Stachys – All Varieties
Stachys, also known as Lamb's Ears, is perfect for the front of borders with it being a smaller, low maintenance plant. Fitting well into a cottage garden planting scheme, Stachys boasts either flower spikes of purple, pink or white depending on the variety.
Stachys flowers from late spring and throughout summer; they require no pruning or training and only require a small amount of deadheading to continue flowering.
Coreopsis – All Varieties
Coreopsis are bright herbaceous perennials that boast daisy-like, meadow blooms. Perennial Coreopsis mostly bear yellow flowers, although some varieties offer pink flowers and even bi-colour in some.
Coreopsis will flower from around June right through to the first frosts, so can offer a dramatic display in any garden, and suit a variety of planting schemes, whether it be contemporary or cottage style garden.
Green Fennel
Green Fennel is a large, beautiful plant with frothy foliage and lemon-yellow flowers. Pollinators love this plant, so you're sure to attract a myriad of wildlife with this in the garden.
Green Fennel prefers a well-drained, fertile soil in a sunny position and is of course, an excellent culinary herb to grow. This versatile plant not only looks fantastic in the garden and produces beautiful food, it also makes stunning cut flowers throughout the summer months.
Erigeron – 'Azure Beauty'
Erigeron Azure Beauty is a free-flowering perennial with beautiful lavender-blue flowers and bright yellow centres. Flowers appear from early to late summer and will certainly attract many pollinators throughout the seasons.
Azure Beauty prefers a sunny position and will tolerate some shade, and makes excellent ground cover.
Erigeron – 'Wayne Roderick'
Erigeron 'Wayne Roderick' boasts a darker green, delicate foliage and bright, lavender flowers. Keep trimming the dead flowers and this plant will keep flowering right until the end of September.
Wayne Roderick makes a fantastic addition to the front of any border, or even in pots, to assist in blurring boundaries and adding ground cover.
Erigeron – 'Sea Breeze'
Unlike the above two varieties, Erigeron 'Sea Breeze' offers more lilac-pink blooms and blue-green foliage. This low-growing, carpeting perennial has evergreen leaves, making it an exceptional variety to add to any garden.
Again, loved by pollinators, Sea Breeze loves moist, well-drained soil in a sunny position.
Anthemis – All Varieties
Anthemis are a group of long-flowering herbaceous perennials, offering bright daisy-like flowers and meadow-like foliage. This low, quick-growing plant will attract many pollinators to the garden and suits a cottage garden planting scheme.
Visit The Growing Nursery
All of the above plants can be found throughout The Growing Nursery and will be the 'Pick of the Month' until mid-July, when our next selection of plants will be announced.
The Growing Nursery is open Monday to Saturday 9am - 5pm and Sunday 10.30am – 4pm.
We look forward to welcoming you to The Growing Nursery very soon.