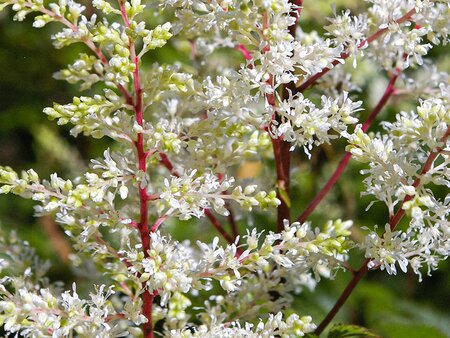 It was our pleasure to see The Growing Nursery full of visitors at our recent Summer Festival event! It seems like more of you are heading down the walkway to discover the beautiful plants grown here at Beetham Nurseries.
Monthly Quiz!
First things first, it's time to put your knowledge to the test in our popular monthly quiz! Do you know the answers to these questions? Scroll to the bottom to find out. But no cheating!
Your starter for 10 is an anagram. This plant can be used medicinally: CCENEIHAA
I am a Hosta named after the first and only woman emperor of China. Who am I?
What perennial is commonly known as 'Elephant's Ears'?
What's Looking Great This Month?
We have six varieties of stunning Eupatorium, more commonly known as Joe Pye weed. These tall plants are a good height for the back of a border and are magnets for pollinators! You can leave the seed heads on to give some interest during the winter months. Cumbrians will be pleased to hear they are weather resistant and very hardy!
Any Special Offers This Month?
Astilbe plants in The Growing Nursery are now £8.99, down from £14.99 whilst stocks last.
Top Tips for Beginners
The recent wet spells have created ideal conditions for slugs. For an alternative method of non-chemical control, you can try setting some beer traps to prevent them from devouring your plants!
We also have a few tips to keep your gardens in bloom! Keep deadheading to prolong flowering, and cut back early flowering perennials as fresh new growth comes from the bottom. And an easy way to achieve a succession of flowering in the garden is to buy plants in flower each month of the year.
Top Tips for All Gardeners
Watch out for mildew on plants and treat any cases you do find early. It can be especially problematic in damp and humid conditions.
If you have roses, be sure to give them a feed after flowering to encourage a second flush of flowers.
Jobs for the month
Note any gaps or congestion in your borders that you'll want to rectify later in the season ahead of next year, and start a shopping list for autumn bulbs. You can continue to pot smaller plants into larger ones to grow on too.
August is also a great time to collect seeds. Place in a bag, label, and store in a dry, cool, place. The shed or a dedicated draw is ideal.
As well as planning ahead, you'll still need to be weeding continuously and watering in dry spells.
August Inspiration
If you're looking to make a change this August, why not try a contemporary green-themed garden? You can use ferns and hostas in shade (or semi-shade) — then add in shrubs such as clipped box for form, clean lines, and winter interest. We have a huge range of these plants for you to choose from in The Growing Nursery to create your perfect look. This type of green planting, combined with hard landscaping can look stunning.
Our Team's Pick of the Month
Kniphofia (Tawny King) flowers bright orange and yellow, glowing bright on a dull day. With their vibrant colours and strong upright form, you can see how they've earned the nickname of Red Hot Poker!
Quiz answers:
ECHINACEA

Empress Wu

Bergenia
We hope you up at The Growing Nursery soon!