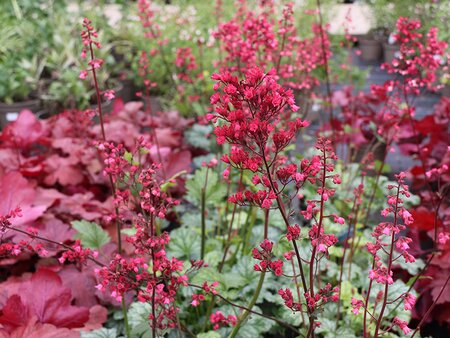 The season is turning and there is an abundance of Autumn colour up at The Growing Nursery. As your late-flowering plants start to fade, and the inevitable winter preparation tasks loom, thoughts may be turning to your planting scheme for next year.
There is currently 40% off all herbaceous perennials at The Growing Nursery, so it is a great time to pick up some Cumbrian-grown plants and flowers. It is your last chance to visit The Growing Nursery for a while as it closes on Sunday 29th October till the Spring.
Monthly Quiz!
First things first, it's time to put your knowledge to the test in our popular monthly quiz! Scroll to the bottom to find out. But no cheating!
Commonly known as 'Joe Pye Weed', the tall, moisture-loving perennial Eupatorium is a native of which continent?
UMRDOEI is an anagram of which low-growing, cushion-forming perennial?
I am an evergreen, Mediterranean shrub that flowers throughout the summer, has aromatic foliage, and is attractive to insects. Who am I?
What's Looking Great This Month?
With an aptly Autumnal name of Happy Halloween, Kniphofia is flowering now
Panicum Heiliger Hain will bring a blaze of colour to your borders! This tall, upright grass has a green foliage that turns to burgundy with light and airy flowers.
Top Tips for Beginners
It's time for an Autumn clear up! When you rake up leaves, gather them up and compost them together to make leaf mould. This is a super light compost for plants and is perfect for seed sowing.
And if you're looking for ways to create natural homemade Christmas decorations, you can pick interesting seed heads to dry for spraying for Christmas decorations.
Autumn is the best time to plant fruit trees as they have all winter to spread their roots, making them ready to blossom in the spring. From apples and pears, to plums, Beetham Nurseries currently has a wide selection of fruit trees to choose from in the Plant Centre. Ask our friendly and knowledgeable team to help you pick out the best variety for your garden.
Top Tips for All Gardeners
Resist the urge to be too tidy in your clear up. Insects and hedgehogs snuggle down in leaf litter to hibernate for the winter. Also, if you leave some seed heads in borders, they can look incredible on a frosty day.
Although, you will need to sweep up wet leaves from paths and patios to avoid accidents! Don't forget to clear gutters too to prevent blockages and leaks.
Any Special Offers This Month?
There is 40% off all herbaceous perennials at The Growing Nursery! But hurry, The Growing Nursery closes on Sunday 29th October till Spring.
What To Focus on This Month...
The grasses up at The Growing Nursery look so good at this time of year. Whilst they are in flower, it's a great time to buy them as it's easy to see their height and form. Use them to create a cottage-style garden scheme with an informal mix of closely planted flowers.
Our Team's Pick of the Month
Rudbeckia Little Gold Star is compact, long flowering, and easy to grow. The vibrant yellow, daisy-type flowers, are bringing the sunshine in the Growing Nursery, even on the cooler days.
Quiz Answers:
North America
Erodium
Cistus
That's all for this month. Remember, The Growing Nursery closes till Spring 2024 on the 29th October 2023. We hope to see you up there soon!